Kings and Legends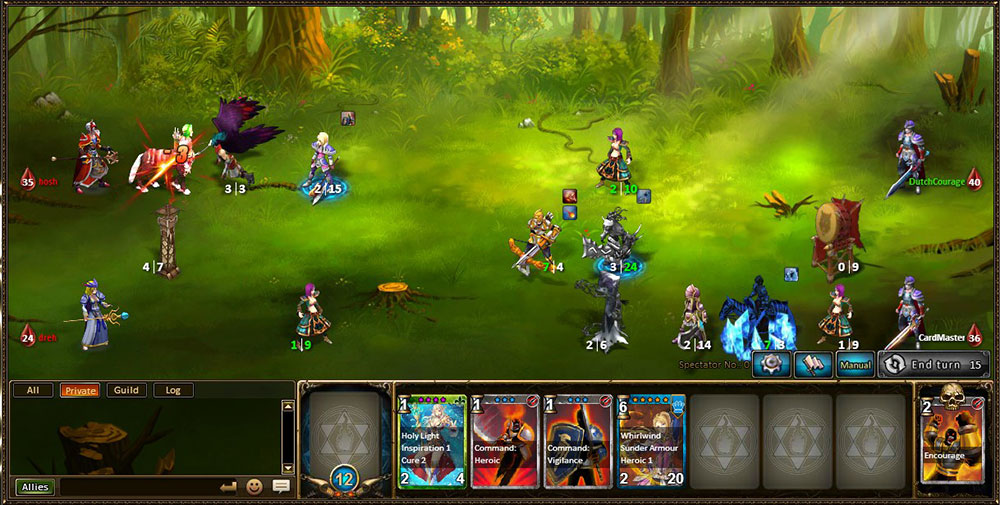 Spielidee von Kings and Legends

Beim kostenlosen Browsergame Kings and Legends handelt es sich um ein Trading Card Game – online. Erfahrene Trading Card Spieler mögen sich zunächst wundern, ob es überhaupt Sinn macht und in welcher Weise es möglich ist, ein klassisches TCG für den Computer zu konvertieren. Doch schon nach kurzem "Anspielen" von Kings and Legends wirst Du feststellen, dass es den Spielemachern nicht nur gelungen ist, die Idee eines TCG auf das Internet bzw. den Computer zu übertragen, sondern dass sie die Idee noch erweitert und fulminant umgesetzt haben. Während es bei einem herkömmlichen TCG Ziel ist, mit Freunden zu spielen und sich ein individuelles Deck zusammenzustellen, bietet das Browsergame Kings and Legends viele weitere Möglichkeiten darüber hinaus: So kann man mit viel mehr Spielern zusammen spielen, als das mit einem traditionellen TCG möglich ist. Man kann Allianzen gründen, gemeinsam Bosskämpfe bestreiten und dabei sein eigenes Kartendeck weiter und weiter verbessern.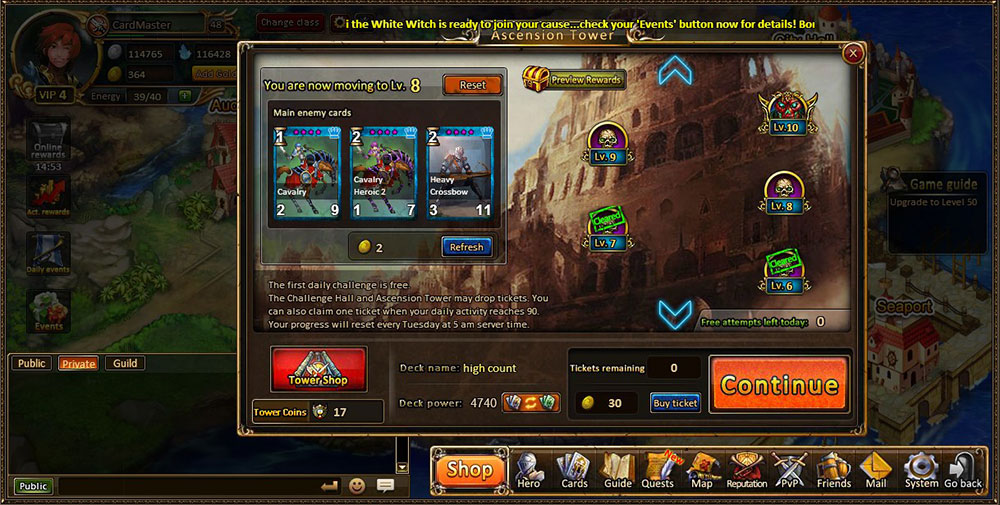 Grafik
Die Grafik, welches das Browsergame bietet, ist überzeugend und schön gezeichnet. Hier ließen sich die Grafiker vor allem an den bereits hübsch entworfenen Grafiken vieler bekannter TCGs leiten, ohne dabei kopierend zu wirken. Allerdings darf man nicht das Niveau aufwendiger PC-Games erwarten, schließlich ist das Browsergame völlig kostenlos.
Unterhaltungswert
Der Unterhaltungswert für die Spieler ist wie bei einem klassischen TCG sehr hoch, ja, sogar noch höher ob der zahlreichen Vorteile, die sich hier durch den massiven Multiplayer ergeben. Hier lässt sich gerade das strategische Können sehr erfahrener Spieler voll ausschöpfen, wobei auch schwächere Spieler auf ihre Kosten kommen, wenn sie mit anderen zusammenarbeiten. Wer schon immer mal ein TCG kostenlos online spielen wollte, kommt hier auf seine Kosten und wird langen Spielspaß empfinden.
Bezahlung
Wie bei den meisten anderen Games, die man online spielen kann, gibt es diverse Inhalte, die man mit Geld, das zuvor in Spielgeld konvertiert werden muss, erwerben kann, um sich so einen geringfügigen Vorteil oder Starthilfe zu verschaffen. Diese Inhalte sind allerdings allesamt optional, so dass das Spiel von jedem, der es möchte, völlig kostenlos gespielt werden kann.
Fazit
Zum Schluss bleibt eigentlich nur eines zu sagen: Ein TCG als Online-Browsergame umzusetzen war sicherlich eine tolle, wenn auch gewagte Idee und die Umsetzung ist mehr als gelungen. Top!